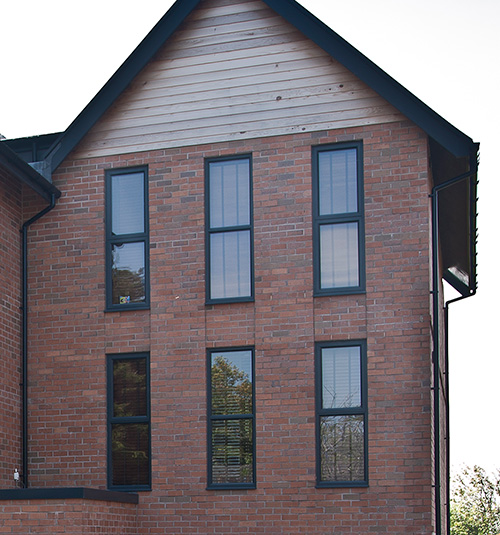 Aluminium windows are a great choice for contemporary homes and provide strength, durability and resistance to corrosion. All of our aluminium windows have been thermally broken, greatly increasing their thermal resistance, helping to combat heat loss and condensation whilst retaining their structural strength and with a 10 year guarantee on materials and workmanship you can always be confident that your investment is safe as well as your home being secure.
Characterised by a slim, elegant profile with a high quality powder-coated finish, aluminium windows are a great choice for contemporary buildings or for instances where it is important to maximise the the amount of natural light that entering the building.
If you have any questions about any of our ranges, or would like to talk with one of the All Glass team about the most suitable options for your home please do give us a call.
Technical Specifications
See below for full technical and product information on the ranges we can supply and install.
Alitherm 300
Aluminium windows featuring an extended Polyamide thermal break which provides excellent thermal performance. The system will achieve a Window Energy Rating 'A' grade and also complies with the latest requirements of Building Regulations Document L 2010.
Main points:
An enhanced system designed to comply with the revisions to the Building Regulations Document L 2010.
Profiles feature an extended Polyamide thermal break that allows improve thermal performance.
Option of ovollo, chamfered or square edge profiles.
Alitherm 300 will achieve a WER A Rating.
Profiles width: 53mm
Single or dual colour, marine quality polyester powder coat as standard
Visoline
Versatile selection of external flat faced profiles all with internal beading. Suitable for domestic and all commercial applications.
Standard series of profiles with thermal break, used for most traditional door and window applications in houses and industrial buildings.
Typical Applications:
Fixed windows for single or double glazing
Single or double sash, side-hung, open-in or open-out windows
Tilt and turn windows
Outward opening top-hung windows
Pivot windows: horizontal or vertical
Tilt and slide windows with appropriate hardware
Possibility to bend the profiles for applications such as: round windows, pointed and basket arches
Rounded glass beads are available for a Soft-look
Materials:
Extruded out of aluminium-alloy AlMgSi 0,5 F22 according to DIN 1725.
Tolerance according to DIN17618.
Finishing:
Electrostatic powder coating: according to the guidelines of APA-Qualicoat in most of the current RAL-colours.
Possible to colour in wood structure to imitate different woods (Powder coated according to Qualicoat). All coatings will be delivered with a certificate of guarantee for 15 years.
Anodisation: in satin or bronze colours with E.E.W.A./EURAS-Qualanod quality label.
Thermal break: The profiles consist of 2 aluminium extrusions which are separated from one another by polyamide strips PA 6.6.25 reinforced with glass fibre. A gluing thread, rolled and pushed in together with the thermal break profile, ensures a strong adhesion after melting and flowing, when the profiles are heated in the hardening furnace.
Details:
Built-in depth: outer frame 51 mm, sash 60 mm.
Glazing rebate: 22 mm
Hardware rebate: according to the current European sizes (EURONUT)
Sealings: centre seal and inside stop rubber in EPDM.
Glazing: from 4 to 37 mm.
k-value: 3.110 W/m²K (Rahmenmateriaal-Gruppe 2.2)
Hardware: EUROGROOVE
Various forms of hardware and finishing available.
Windows can be joined with variable couplings or standard fixed couplings (such as 90° and 135°) using profiles with thermal break.
Adapter profiles for roller shutters.
Sill adapter
Window sill profiles in various depths available.
Performance level according to STS 52.0:
 Air transmission: PA3
Mechanical resistance to wind: PV2
Watertightness: PEE 1000 Pa
Performance level according to UEATC:
Air transmission: A3
Mechanical resistance to wind: V2
Watertightness: E4
Alitherm 300 – Section Details